This article or section is a stub.
You can help the Street Fighter Wiki by expanding it.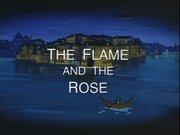 The Flame and the Rose is the eight episode in the second season of the Street Fighter TV series.
The mystical psychic Rose senses that powers in the world are fluctuating wildly out of control. She blames Ken and Blanka for this sudden energy spike, and believes they are the catalysts to the end of the world. Rose kidnaps them both and forces them to fight, only to realize they are not evil at all.
With their help, she tracks down M. Bison, who is the true manifestation of evil she had sensed. She then attacks M. Bison in the mental world just as Ken and Blanka destroy a statue of Kali, which in turn destroys Bison's entire castle. Mysteriously, everyone is uninjured, and Bison eludes capture once more.
Ad blocker interference detected!
Wikia is a free-to-use site that makes money from advertising. We have a modified experience for viewers using ad blockers

Wikia is not accessible if you've made further modifications. Remove the custom ad blocker rule(s) and the page will load as expected.