This article may or may not be a stub, but it's definitely missing something.
Specifically: Update for USFIV.
You can help the Street Fighter Wiki by giving us what we need.
The
Tiger Raid
is one of
Sagat
's
Super Combos
, introduced in the
Street Fighter Alpha
series, and exclusive to his
A-ISM
Super Combo Gauge
in
Street Fighter Alpha 3
. It also appears in the
Street Fighter EX
series and the
SNK vs. Capcom
crossover series.
Description
Edit
Executed by performing two quarter-circle backward motions and pressing kick, Sagat delivers a barrage of kicks and finishes with a powerful, multi-hit flying side kick. In the Alpha series, Tiger Raid is available at Level 1 (6 hits), Level 2 (7 hits) and Level 3 (7 hits, the last being a more damaging flaming kick).
The Tiger Raid reappears in Ultra Street Fighter IV as an OMEGA Mode-exclusive move.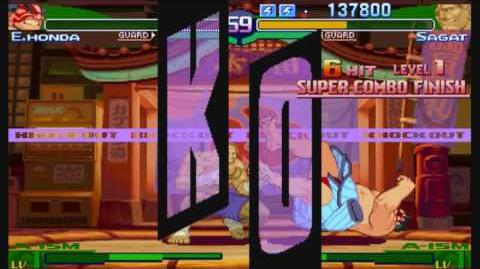 Ad blocker interference detected!
Wikia is a free-to-use site that makes money from advertising. We have a modified experience for viewers using ad blockers

Wikia is not accessible if you've made further modifications. Remove the custom ad blocker rule(s) and the page will load as expected.