Tiger Uppercut
Talk

0
1,258pages on
this wiki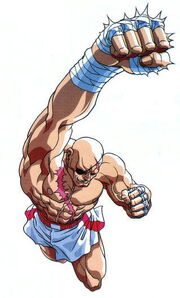 The
Tiger Uppercut
(タイガーアッパーカット,
Taigaa Appaakatto
), also known as the
Tiger Blow
 in the 
Street Fighter Alpha
series and the EX series, is one of
Sagat
's signature
special attacks
. This move also exists in
Street Fighter: The Storytelling Game
[1]
.
Input

| | |
| --- | --- |
| All appearances | + |
Description
Edit
Executed similarly to a Shoryuken, both in input and execution, Sagat jumps into the air and turns his body while hitting his opponent with a rising uppercut - although with the opposite knee raised - followed by a backwards somersault to the ground. In the Street Fighter Alpha series and the EX series, the move instead is done as the Tiger Blow, where it hits multiple times, as well as having a different recovery animation where Sagat spirals instead.
The EX Special version introduced in the Street Fighter IV games is essentially a "revamped" Tiger Blow; it has a slightly wider hitbox, smaller startup time, and hits multiple times. It can also be used to combo into the Tiger Destruction. The somersault at the end is replaced with a turn similar to Ryu and Ken's Shoryuken.
When Sagat was scarred by Ryu's Metsu Shoryuken during the events of the first World Warrior Tournament, he decided to create a similar move for himself, possessing the Tiger Blow in the Street Fighter Alpha series and perfecting it by the time of the second World Warrior Tournament. He has been seen practicing the move on a waterfall.
In the games, it can act as an anti-air attack, combo ender, or as a close-range punish, similar to the Shoryuken. However, it does not have the same priority, and a well-placed normal attack can stop the move. Tiger Uppercut also requires very close range, unless the opponent is in the air already. As with the Shoryuken, whiffing or having the move blocked leaves Sagat vulnerable as he falls.
In the Street Fighter II series, the move did massive damage as did his Tiger Shot, making Sagat a very dangerous opponent in those games, as he was able to (and still can) zone very effectively by hitting his opponent with a Tiger Uppercut should they decide to jump over his Tiger Shots.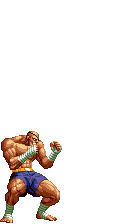 Screenshots
Edit
Similar moves
Edit
References
Edit