Zan'ei
Talk

0
1,195pages on
this wiki
Redirected from Zetsuei
The Zan'ei (慘影, "Cruel Shadow") is one of Gen's Super Combos in the Mantis style, introduced in Street Fighter Alpha 2.
In the storyline, Gen often uses the Zan'ei in his assassinations; the only person known to have survived the technique is Akuma during Gen's encounter with him in the storyline of the Street Fighter Alpha series.
Input (all appearances)

| | |
| --- | --- |
| Zan'ei | + |
Description
Edit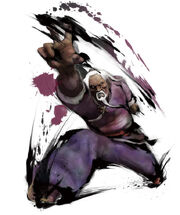 Executed by performing two quarter-circle forward motions and pressing punch, Gen draws back in preparation for the attack, then suddenly moves forward across the screen in an instant with his index finger, middle finger and thumb in a claw-like configuration.
Gen dashes through the opponent, and if the attack is not blocked, when Gen stops, the opponent will suddenly suffer 6 hits of damage consecutively. The distance Gen travels before stopping is determined by the punch button pressed.